Saturday was such a miserable day.  It was raining so hard that we we didn't really want to go out.  We had promised Joyce's cousin for a few weeks now to take her to St. Lawrence Market to check out the area, and if the price was good, some home grown vegetables.
We had started to walk to the local subway stop, and due to the terrible weather we decided to drive down instead of taking the TTC.  Getting downtown and finding a parking spot was fine, but as we walked into St. Lawrence Market I pulled off my glasses to clean the water drops off them and snap!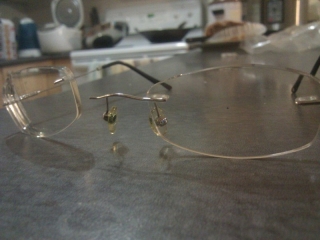 They are broken in such a bad spot there isn't anything that I can do to fix them, I couldn't even tape them up.  I had to stumble around St. Lawrence Market and look at everything in a blur.  It wasn't the most fun that you could have there.
I wasn't able to get to my local one hour eye glass location until Sunday. So that means that until my new set of glasses come in I can't drive.  That includes driving to work or even pick up the new glasses.  I'll have to take the TTC to go and pick them up, but the good news is that they said that the new set should be in Monday, so as soon as I can pick them up I'll be able to head into work.